Tai Chi
Tai Chi Chuan, also known as Tai Chi, Taiji, and Taijiquan, is an ancient Chinese martial art form that rejuvenates the body, soothes the mind, and strengthens the spirit. It is a mental and physical health practice for peaceful solution of everyday stressful situations. Health benefits include improved balance, circulation, energy, perceptual awareness, cognitive ability, coordination, flexibility, mental clarity, and a general sense of well-being.
Tai Chi is a recognized complementary therapy for cancer, arthritis, multiple sclerosis, chronic fatigue syndrome, diabetes, fibromyalgia, Parkinson's disease and chronic pain. Research shows that playing Tai Chi increases immune system function, thereby improving overall health. Tai Chi is a moving meditation and renders the same benefits as sitting meditation while giving the player a gentle dance-like workout. Tai Chi is a way of doing exercise, meditation, self-defense, and mental therapy in one dynamic and yet soothing program geared towards personal enlightenment.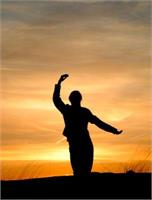 Find a class that works for you and sign up today!
Register